Underlinked!
This article needs a few links to other articles. Please improve this article by adding links to the context within the exisiting text. ( December 2015 )
Stub
This article is a stub. You can help Contractwars Wiki by expanding it.
Aditional Info:
This page lacks: Customization above metalevel 1.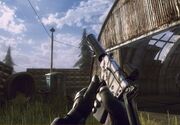 The Kedr can be customized with collimators, silencers, muzzle brakes, and tactical devices. This weapon does not have optics.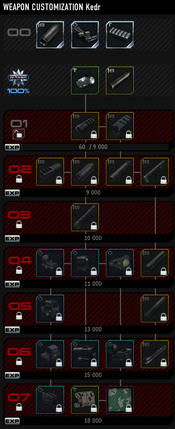 W-Task
Unlock: 45 headshots
Zenit Klesch tactical deveice
Gemtech Raptor-2 silencer
"Tactical mod combines laser pointer and flashlight."
"Gemtech SMG silencer"

| | | |
| --- | --- | --- |
| | Accuracy | +3 |
| | Recoil | — |
| | Mobility | −3 |
| | Eff. Distance | +5% |

| | | |
| --- | --- | --- |
| | Accuracy | +1 |
| | Recoil | −1 |
| | Damage | −15% |
| | Penetration | −15% |
| | Mobility | −3 |
| | Eff. Distance | -10% |
| | Hear Dis. | -60% |
Tier 1
Unlock: 9,000 or 20
KTech RF-500 Muzzlebrake
Fishbone MSM compensator
"RF-500 muzzlebrake cuts recoil good, also extends effect firing distance."
"Guntec Fishbone Multi-spike muzzlebrake/compensator."

| | | |
| --- | --- | --- |
| | Accuracy | — |
| | Recoil | −4 |
| | Mobility | −2 |
| | Eff. Distance | +20% |
| | Hear Dist. | +5% |

| | | |
| --- | --- | --- |
| | Accuracy | — |
| | Recoil | −5 |
| | Mobility | −2 |
| | Eff. Distance | +10% |
| | Hear Dist. | +45% |