Underlinked!
This article needs a few links to other articles. Please improve this article by adding links to the context within the exisiting text. ( March 2016 )
Stub
This article is a stub. You can help Contractwars Wiki by expanding it.
Aditional Info:
This page lacks: Gallery, Trivia.

"Modification of SVDK for sniper operations commissioned by the PMC BEAR, made by SniperArms Dynamics. A direct hit by one TKPD bullet is guarenteed death of an enemy."
— Description.

The TKPD Sniper is a premium tier 2 sniper rifle.
Overview
The TKPD Sniper is a semi-automatic, low firerate sniper rifle. The TKPD is a sniper variant of the TKPD Storm Carbine, which boasts an impressive damage for a semi-automatic rifle and has longer range than its carbine cousin. However, it has much lower mobility comparing to the carbine version and relatively low accuracy and firerate for a sniper rifle. It has an excellent, non-obstructive scope, but the slow scope-in animation can make target acquisition significantly slower. The TKPD Sniper is an ideal weapon for large maps such as Old Sawmill.
The TKPD Sniper does not have a W-Task or customisation.
Achievements
Achievements you can unlock using this gun.
| Icon | Name | Description | Reward |
| --- | --- | --- | --- |
| | Angel of Death | 700 longshots with snipers | 8000 |
| | Angel of Death II | 3500 longshots with snipers | 35.000 |
| | Sniper | 100 doublekills with snipers | 25000 |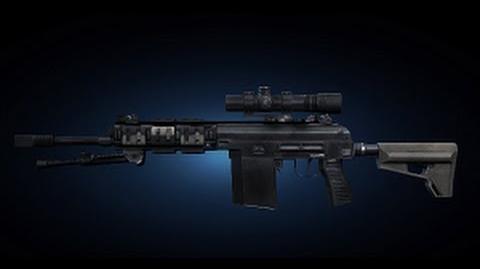 Ad blocker interference detected!
Wikia is a free-to-use site that makes money from advertising. We have a modified experience for viewers using ad blockers

Wikia is not accessible if you've made further modifications. Remove the custom ad blocker rule(s) and the page will load as expected.